Read Part 1 of the story here: https://teawithsusmita.com/2020/01/10/temi-tea-cherry-tree-festival-and-tea-travel-part-1/
Before we got down to the venue ground which was a large clearing in the middle of the tea garden, we got out of the car and sat at the entry point which was at a higher level from the venue ground – to soak into the pristine nature all around us. There were many locals who came and talked to us. I found every one of them to be very proud of this Cherry Tree Festival and are actively involved. You need an extraordinary community and a great leader to make such a thing happen.
After sipping some Temi tea from a local tea vendor set up only for the festival, playing with the lazy dogs which were soaking sunlight and clicking some pictures of the colourful flowers around, three of us walked down to the venue among the tea plantation. I could smell rose, cinnamon and other spices around me. I was informed that such spices are planted near the tea plants on purpose – they add to the complexity of the tea aroma. Of course that made sense!
The oval-shaped venue was brightly done up with yellow festoons and yellow coloured kiosks all around. Yellow is the colour of Temi Tea and it matched perfectly with green all around. On reaching there we realised the name of the festival was changed this year to Temi Autumn Carnival. But what's in a name? There are still Cherry trees around the tea estate in full bloom keeping it as pretty as one can imagine.
Since we were early we lounged at one of the kiosks selling local beer and whisky along with some local delicacies like pork, chicken and beef starters. I tried the local beer sharing with my co- traveler. It was good !
The inauguration got a bit delayed. It started at 1:30 p.m. The chief guest for the first day was the Honorable Minister of Urban Development Shri Arun Upreti who inaugurated the festival; and Mrs Krishna Rai, wife of Honorable Chief Minister of Sikkim.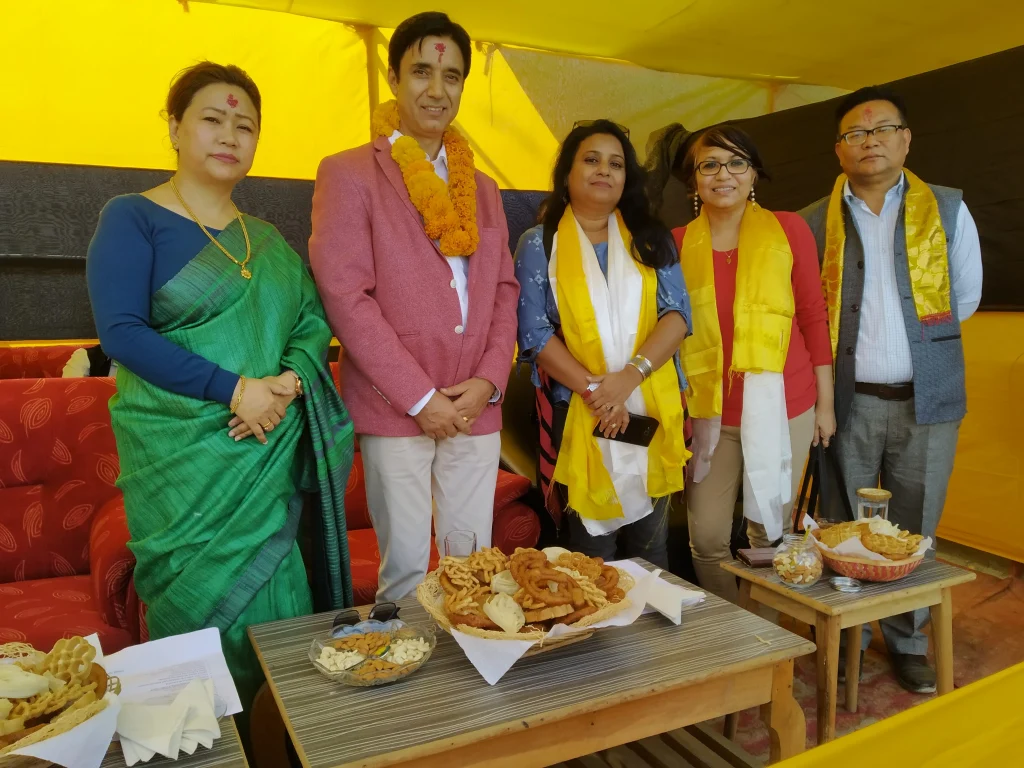 I met with the MD of Temi Tea Mrs. Mrinalini Shrivastava. I mentioned about the able leader earlier, remember? Here she was. I found her extremely graceful yet strong-willed. She had planned every aspect of the festival herself along with her close team. Every minute detail was taken care of. Every eventuality was considered. We were given food coupons and she made sure every guest was well taken care of. She was one of the last persons to have lunch after everyone was fed. I found her commitment truly remarkable.
The festival which is aimed at attracting tourists from India and other parts of the world was a colourful extravagant affair. It showcased Sikkim and its culture in its truest form. The unique Yak dance, local band performances, local music and dance, fashion show with host of other games and sports made the three-day festival entertaining as well as experiential. The kiosks sold local food, handicrafts, hand painting, local brew and various other interesting artifacts. I loved the yak dance (pretty awesome) and the dance performances of local children who decked up in colourful dresses and danced perfectly to Sikkimese and Hindi songs. It was heartwarming. I peeped into the greenroom right before their performances and got some delightful moments on camera.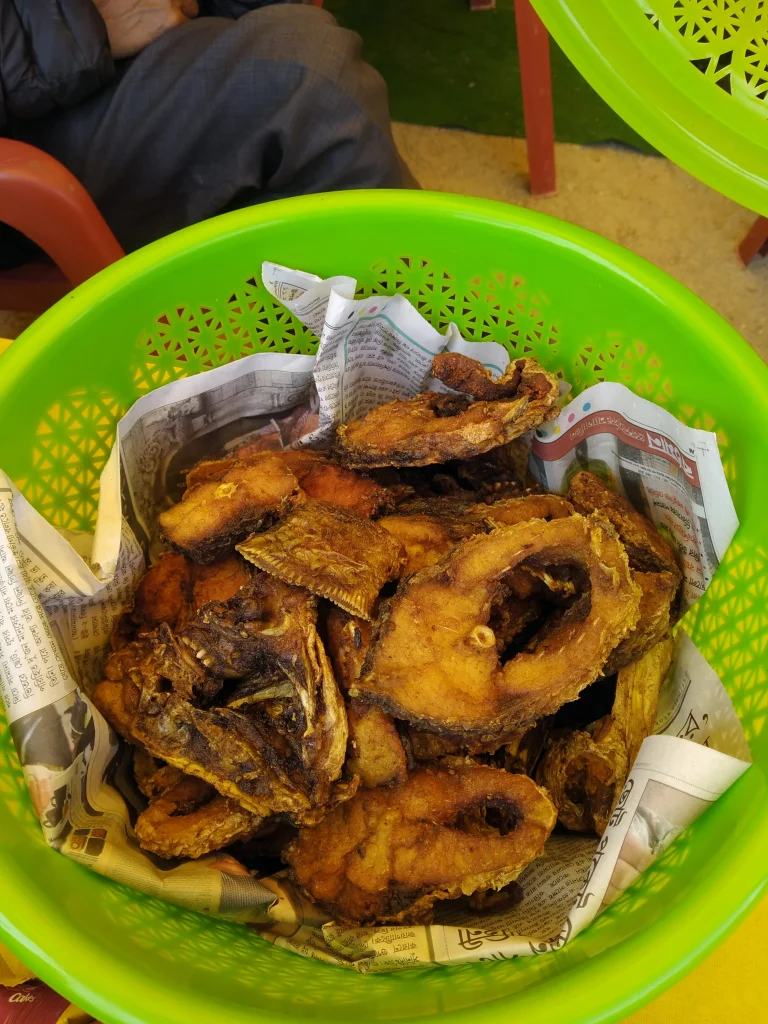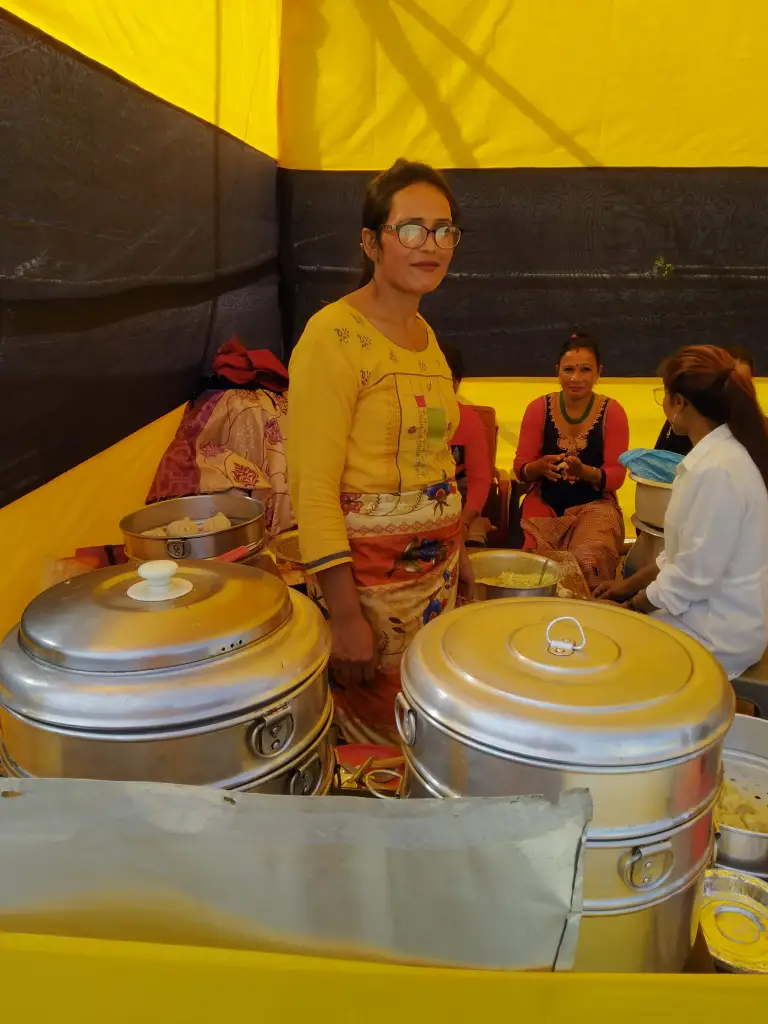 Food at the various stalls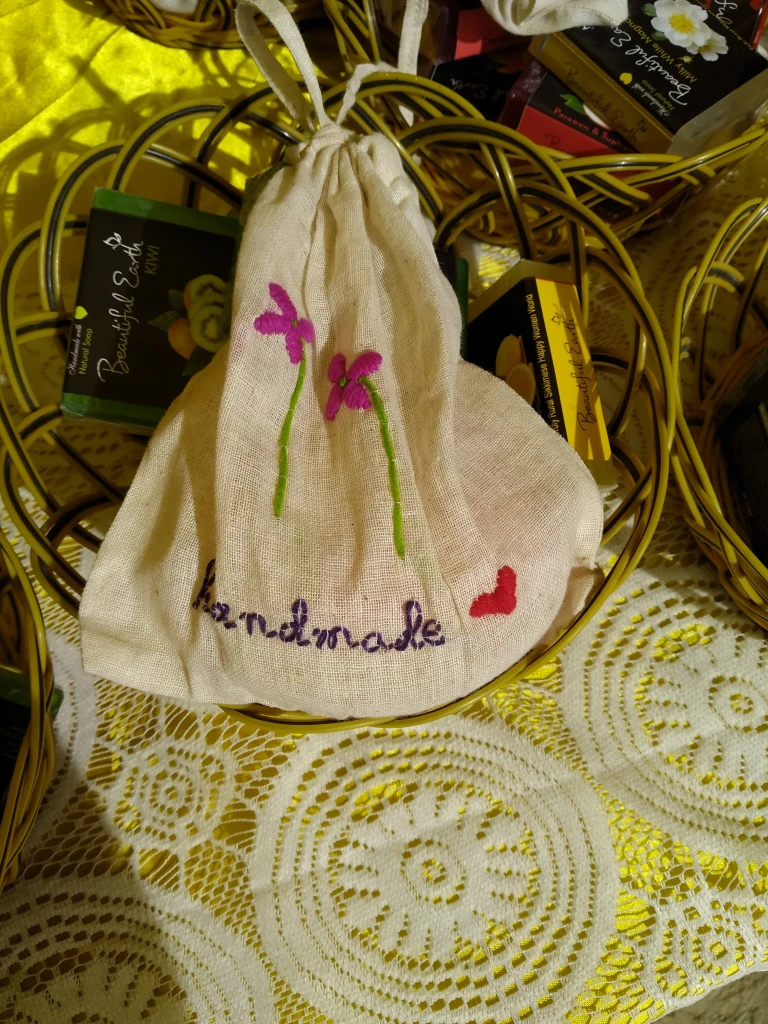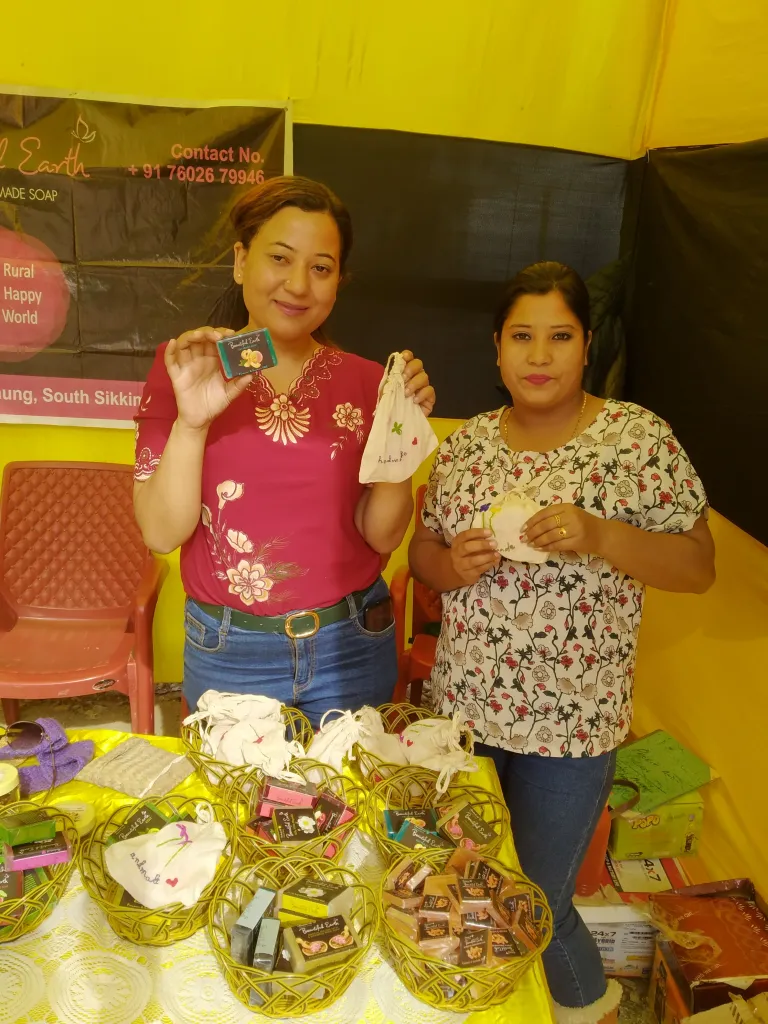 Local Handicrafts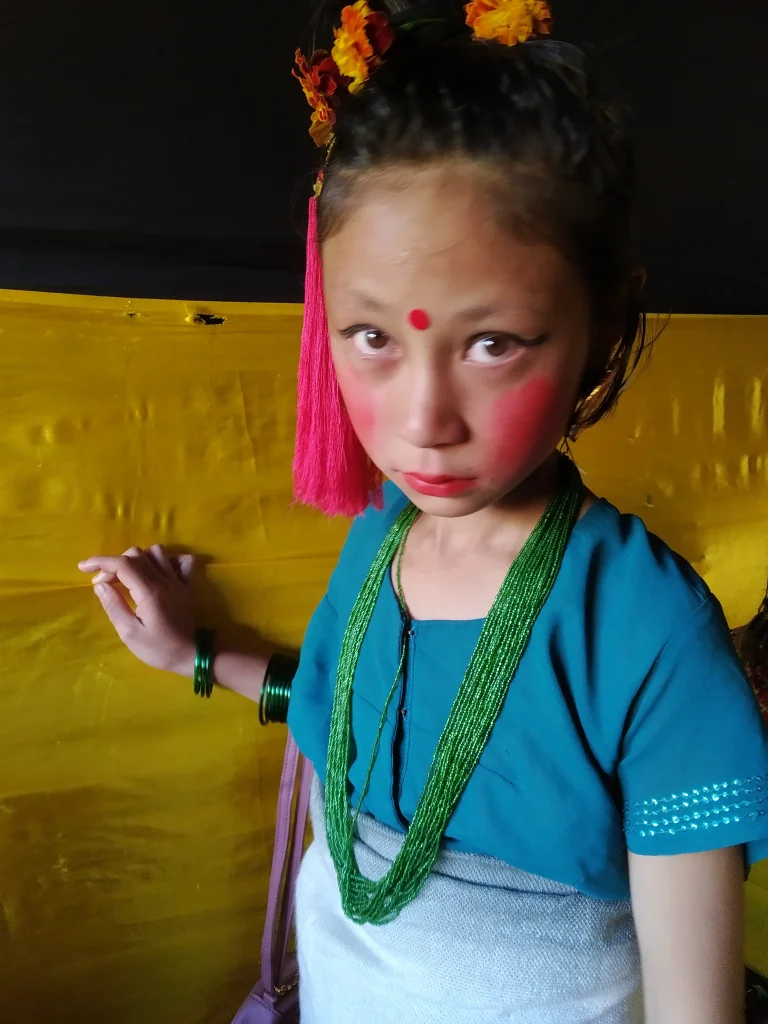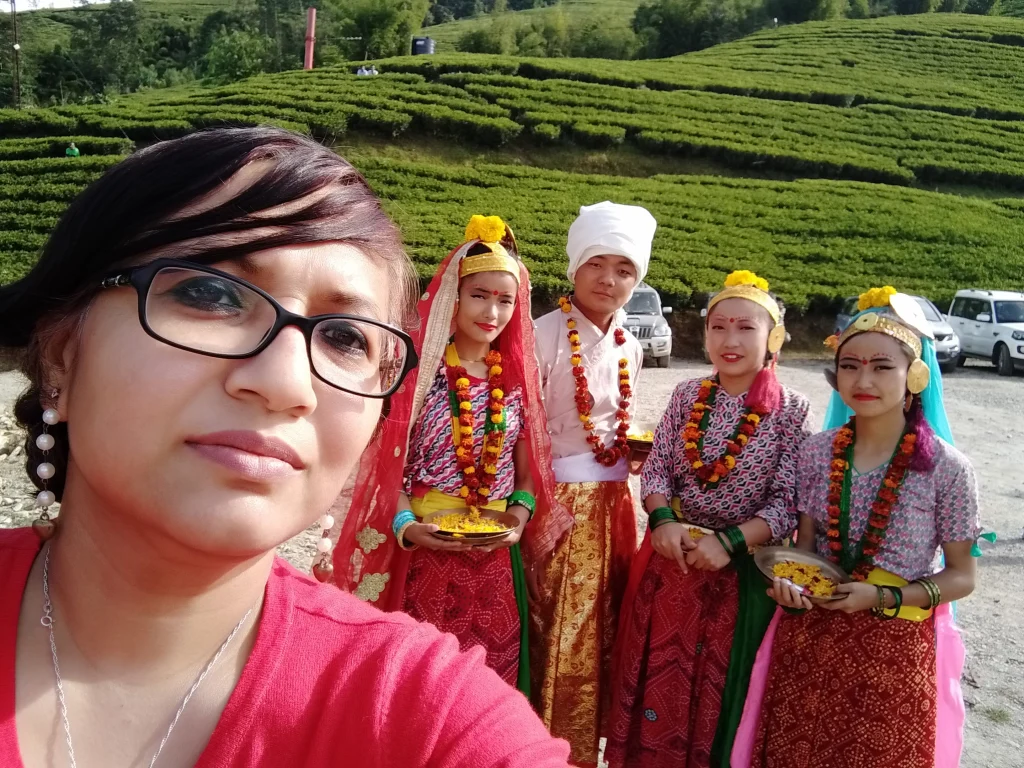 Little performers
The Performance area
On the first day of the festival, post-lunch, I had the opportunity to sit down with Mrs. Shrivastava and listen to her vision for Temi. She also arranged for me to visit Bada Bangla – the Temi Tea Resort, about which I had heard so much about. It's a beautiful property overlooking the mountains, valleys and the river Teesta flowing hundreds of feet below.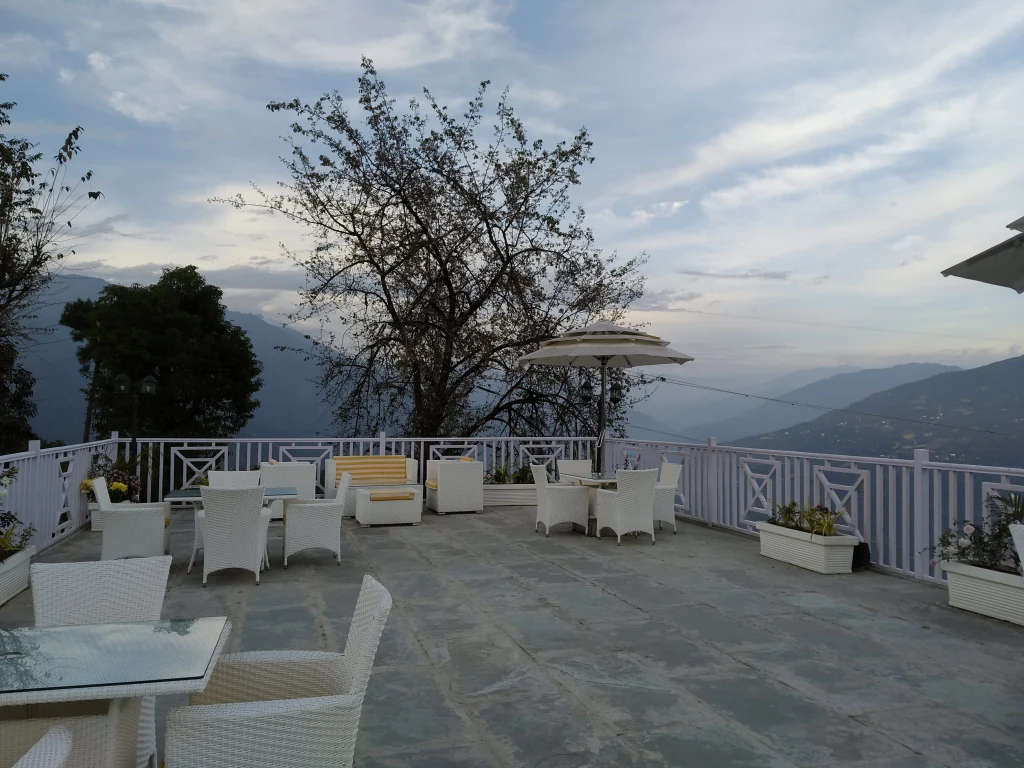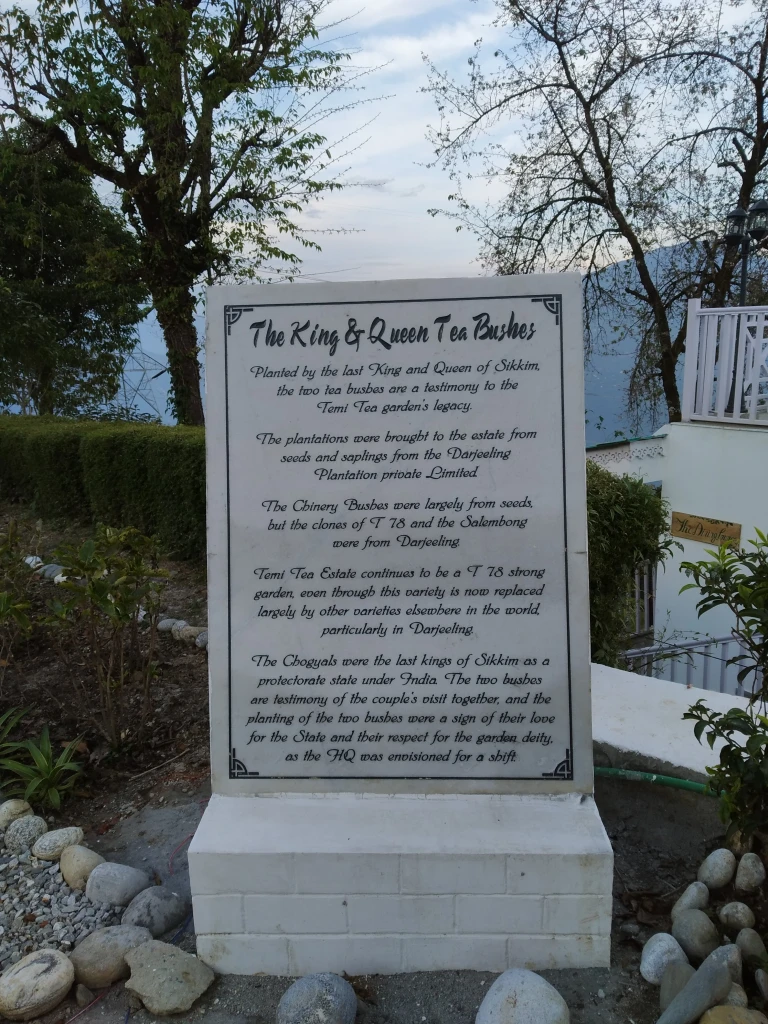 Bada Bangla, Temi Tea Resort
I came back to the festival ground in the evening to catch up on the last few programs. I bought a bottle of beer (it was cold!) and headed back to the homestay for a nice, warm evening (under the blanket, sipping beer) talking about our experiences at the Temi Autumn Festival. Tomorrow was another day.
It was a wonderful experience that I am going to cherish until next year (perhaps) when I visit Temi once again to create some new memories.
At Temi Tea Factory
PS: My travel to Sikkim did not end at Temi. I traveled to Pelling and then to Gangtok and spent another 7 days around these places. It was one of my most memorable solo travels ever. If you need any travel info in Sikkim do let me know. Mrs. Srivastava arranged to drop me up to Ravangla from where I took a taxi to reach Pelling, a 2-hour drive.
I have created a tea trail to Sikkim with Temi at its center. I already had a beautiful couple from Kerala travelling to Temi and staying at the Bada Bangla to celebrate their honeymoon. For complete itinerary please write to: itsourcuppatea@gmail.com