Darjeeling – The land of Exquisite Tea and Mesmerising Tea Trails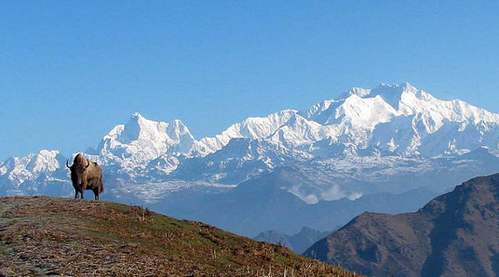 Darjeeling tea is called the Champagne of tea for, perhaps many a reasons. It is considered one of the most premium and sought after tea among the tea connoisseurs around the globe. Most royal families of Europe wake up every day to a cup of Darjeeling tea.
Darjeeling has 4 major production sessions in a year called the flush. The first flush is the produce right after the harsh winter is over and spring has just stepped in. The first flush Darjeeling tea is one of the most premium teas available from India. Second flush Darjeeling tea, which is produced during the summer, is well known for its unique muscatel flavour and also fetches premium prices in the global market. Darjeeling tea is a legally protected geographical designation that is grown and manufactured in this very specifically defined region "Darjeeling".
Darjeeling is situated over the lower Himalayan ranges located in the state of West Bengal, India (I had to clarify this since I realized many 'Indians' think Darjeeling is in Assam!) . Most of the tea bushes in Darjeeling owe their origin to tea seeds from China "smuggled out" by famous adventurer and botanist Robert Fortune nearly 200 years ago. If France represents Champagne in the world of Sparkling Wine, India is known around the world for its Darjeeling Tea.
In this second blog post that continues from my last blog https://teawithsusmita.com/2019/04/07/darjeeling-the-land-of-exquisite-tea-and-mesmerising-tea-trails/ ' , I am going to talk about 6 tea gardens and factories here which are very different in terms of the size and production capabilities but nonetheless produce some of the best Darjeeling teas of the region. These are also the gardens and factories that I have visited myself and found them unique in some way or other. These gardens are part of the Darjeeling tea trail and I recommend visiting at least a couple of them – if not all – to have a good understanding of how teas are produced and manufactured as well as experience tea tasting directly at the source.
The list is in no particular order.
Goomti, Kurseong
A picturesque tea garden that lies between Jungpana to the east and Castleton to the west, is planted on the mountain slopes between 3000 and 6000 feet considered most ideal location for the production of some of the best quality Darjeeling tea.
The tea garden is now run by the third generation owners who are fully dedicated in maintaining the quality and improving the processes that meet world class standards. The Goomtee tea factory is certified under ISO9001 and the HACCP protocols. However, their biggest assets are their co-workers' families who are in their third generation of service as well and possess great artisan skills. They exactly follow the original and traditional methods of Darjeeling cultivation and processing.
Try their First Flush and Oolong Tea. They have an elaborate tea tasting facility and you can taste the day's produce if you go visit them with a confirmed appointment.
I had the privilege of being with them for 3 consecutive days and had the opportunity of walking around its tea garden, visiting the factory, talking to their employees and meeting with their very passionate factory manager Mr. Mishra.
Goomti also has a tea bungalow where you can stay while in Kurseong; however it is under renovation and should be ready only by end of the year.
Ambootia, Kurseong
Ambotia Tea garden, another picturesque Kurseong garden, is run by Mr. Sanjay Bansal who is one of the pioneers in bio-dynamic farming in Darjeeling and a champion of transforming run-down tea estates with uncertain futures into sustainable ones. Their website mentions 14 tea gardens that the Ambotia Group owns and managers under their umbrella.
This one that I visited is situated very close to the Cochrane Place and if you are staying at this hotel, they shall be happy to arrange for a factory visit to this estate.
Avoid visiting any tea factory on a Monday, because you will not be able to see any production happening (Sunday being a holiday no plucking happens on a Sunday and hence no processing on Monday). I had visited them on a Monday morning and though I couldn't see the tea being made, the factory manager was kind enough to give me a thorough tour of their state-of-the-art factory that was built keeping in mind all the possible requirements for bio dynamic standards.
I couldn't taste their teas since the factory was not operating, but if you are visiting them with a proper confirmation taken before hand, I am sure you shall be able to enjoy some of the best teas that the estate produces.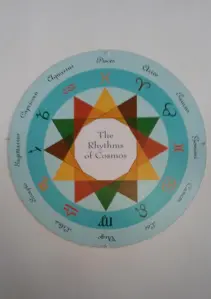 Makaibari, Kurseong
Girish Chandra Banerjee, the scion of a zamindar family from Borai around 100km from Kolkata, had taken over the garden in 1859, but it was under the fourth generation owner Swaraj Banerjee – also know an Rajah Banerjee – who made Makaibari tea estate what it is today. Under his leadership and guidance and with his foresight, Makaibari became the first completely organic tea garden in the country in 1988. Makaibari follows a form of integrated forest management utilizing permaculture where the tea bush is part of a multi-tier system of trees and plants typical of a sub-tropical rainforest, as opposed to a monocultural farm that grows only one crop. Makaibari retains 70% of its entire area under forest cover creating a bio trope for many species of animals to thrive here, including endangered panthers, tigers, birds, butterflies, snakes, spiders and many others, feeding off of each other as part of the natural food chain.
Down the years, Makaibari has carried the signature of Darjeeling and India around the world. Prime Minister of India, Mr. Narendra Modi gifted Queen Elizabeth Makaibari tea when he called upon her at the Buckingham Palace in 2016. The Makaibari tea was also served to participants and officials at the 2008 Beijing Olympics and 2014 Fifa World Cup in Brazil. Makaibari's Silver Tips Imperial was sold at a record Rs 1.17 lakh per kg in 2014.
A visit to Makaibari tea factory is must when you are in Kurseong. It is located on the main road from the Bagdogra airport to Darjeeling via Kurseong. There is a Rs.30/- per head charge that you have to pay while entering the factory. The factory tour guide is usually very brisk and brief in showing around the factory but if you insist he will spend more time and explain the processes in more details. The fresh tea brews can be tasted at the small cabin near the main entrance which also serves as a selling point for its teas.
Makaibari estate also runs some homestays which are typically the employees' houses converted and renovated for the purpose. (More details on this in my next blogs.)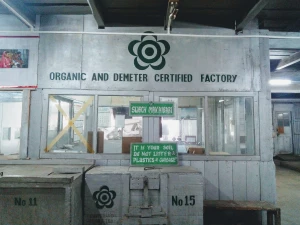 Marybong, Darjeeling
Marybong – which literally means Mary's place in Lepcha – is situated about 12 km from Ghoom, the second highest railway station in the world. At an altitude between 3000 to 6000 feet with unparalleled views of the entire Himalayan range with its crowning glory Mt. Kanchenjunga (the world's 3rd highest peak) and the ruling mountain in these parts of the Himalayas, Marybong is perhaps, one of the most picturesque tea estates in Darjeeling. The tea estate changed a few hands until it was taken over by the Chamong groups who helped it get back to its earlier glory.
Marybong factory is not always open to outside visitors and it is good idea to get your permission from their Calcutta office; and if you are lucky you might just be invited to the General Manager's bungalow where you can sip the freshest brew over some fascinating stories of this very old estate.
Giddapahar, Kurseong
Giddapahar, which means Eagles' Cliff in English, is a smaller family owned estate that you can find on your way to Darjeeling from Kurseong. The Shaw family owns this estate since its inception in 1881 and they are known for their perfect First Flush Darjeeling teas. Their tea factory has undergone lots of renovations over the years and is now ran very efficiently by the current owners and a team of very dedicated and well trained employees. If you are visiting them any time in the near future, you might just be invited to the owner's house for a cup of their best teas. They are building a nice view point that overlooks their factory, bungalow and the gardens which shall also serve as a tea tasting place for their visitors and buyers.
Singtom, Darjeeling
Singtom is the second oldest tea estate in Darjeeling which was planted by a German priest Joachim Stoelke in 1854. He is also known to have planted the regions first tea garden called Steinthal Tea Estate, in 1852. The two estates are right next to each other, with Darjeeling town in between. Singtam was the original name for Sintom which meant 'abode of lions, and was so named as the area around there were famous for lion spotting at the time when the estate was started.
Singtom tea factory, one of the oldest tea factories, still runs based on old traditions of tea manufacturing. Their very passionate factory manager shall give you a very thorough tour of the factory while explaining the minute details of the tea making process. It was one of the best tea factory visits that I had experienced in Darjeeling.
Singtom also runs the world's oldest tea resort which is located just about 300 m away from their factory. It's one of the best destinations to live in a tea estate with majestic views of the Himalayan peaks all around (more on this in my next blogs).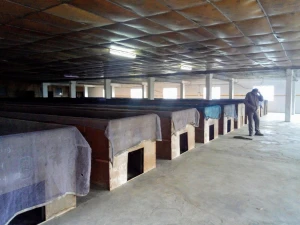 If you want to visit any of the tea estates while in Darjeeling, I shall be happy to help.
Pictures are copyrighted to TeawithSusmita , except for the last (preview) picture which is internet sourced.